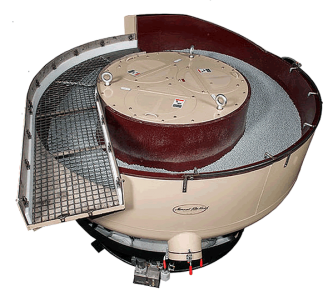 Microsheen was first established with our outstanding deburring capabilities, and has grown steadily from this solid base. If you are a parts manufacturer, whether you produce metal, plastic, stamped, cast, extruded or machined parts, you can benefit by utilizing our deburring facilities.
Burrs, sharp edges, tool marks, flashing, heat-treat scale, and rust can be removed with precision controlled techniques. Polishing, generating radii, and surface improvement (if required or desired) can also be achieved in large or small production quantities.
Microsheen's deburring center currently houses over 300 cubic feet of total capacity, ranging in size from tabletop machines to our largest 53-cubic foot vibratory machine.
Anodizing is an electro-chemical process that thickens and toughens the naturally occurring protective oxide in nonferrous metal. At Microsheen, it is strictly a process applied to aluminum alloys.
Benefits of Type II Anodizing (Clear or Dyed)
1) Anodize resists corrosion
Results will vary based upon the alloy of the material and the condition of the surface finish prior to anodizing.
2) Anodizing provides good abrasion resistance
Though there are more durable metal finishes, anodizing provides a sufficient level of protection against ultraviolet conditions, weather, and corrosion.
3) Anodize can be color dyed
This provides an attractive and easily identified part that is more attractive to you or your customers.
Rush Job? Just in Time? Need it yesterday?
Conversion Coating / Iridite / Alodine
1) Conversion Coating provides corrosion resistance on aluminum sheets, stampings, extrusions, forgings and aluminum castings without anodizing or any other pre-coating processes. While results vary depending on material alloy and surface finish, tests indicate conversion coating can resist corrosion in a 5% salt spray tank for 168 hours.
2) Conversion Coating provides a good paint base, and also provides nearly zero electrical resistance. Since the coating and seal are not applied electrically and can be applied quickly, Conversion Coating can prove to be one of the most cost-effective methods to provide a base primer prior to applying paint and surface coatings.
3) Conversion Coating prolongs shelf life of parts while resisting staining and fingerprinting.
4) Conversion Coating is applied in a clear finish.
Certification: Conversion Coating meets MIL-C-5541 specifications.
Belt sanding is a process by which flat material stampings and components are removed of all burrs and flashing.
Belt sanding can also be used to grain and/or polish flat surfaces, producing a decorative finish if required.
Micosheen utilizes Timesaver equipment, and can process material widths up to 36″ and 6″ thickness.
The use of long and/or wide plate or bar stock introduces its own set of challenges, namely the uniform flatness and thickness of the material. While it's possible grind or mill to specifications – Microsheen's wide belt machines add a new dimension to the process.
Pickling or acid cleaning restores the corrosion resistance of the surface by removing surface contamination such as grease or dirt, as well as any embedded iron or exposed inclusion particles in the steel.
Although some of these surface contaminants may be removed by grinding or polishing, this can cause particles of polishing compounds to be embedded in the surface, and hence damage corrosion resistance.
Rust proofing is applied to your parts per specifications, and can ranger from a long-lasting rustproofing oil to a dry-to-the-touch coating.
Microsheen provides a wide range of equipment to meet all degreasing needs, while handling a wide variety of sizes and materials. We utilize vibratory machines with corn cob to degrease and dry smaller parts in bulk.
We process parts through pressure spray conveyor style machinery for tough degreasing jobs, and with pressure spray auger style equipment when the handling of parts is critical.
Ultrasonic Cleaning is a modern method that provides rapid cleaning – even in smallest blind areas. The process of Ultrasonic cleaning uses biodegradable and environmentally-safe and non-toxic solutions – along with sound waves.